Augustus 24 tot 27
*The workshops will be mostly in English. Some in Dutch or German. Translation to German or Dutch will be offered if needed.*
The Summer Festival is Vlierhof and the Vlierhof network (you!) celebrating itself – Like a flower in full bloom. We see you as a vital ingredient to spice up this festival.
We believe everyone carries a gift and just needs that opportunity, encouragement, trust and space to share it.
We have put together a program that offers both a fixed program with Osho meditations and meditative therapies, Gurdjieff movements, the arts & crafts , namely writing, sculpturing, drawing, personal development workshops like Voice Liberation and open space for you to offer your aliveness in whatever form your gift might take!
Vergezel ons voor een weekend gevuld met meditaties, workshops, muziek en kunst u aangeboden door een combinatie van ervaren professionals en co-creërende deelnemers.
Ontmoet het team en de medewerkers van de workshops hier!
Voor vervoer of als u een ritje naar het Vlierhof bieden of krijgen wilt, kijk naar deze nette car-delen blad.
Aanvullende beslissingen betreffende het programma van het Zomerfestival worden publiekelijk bekendgemaakt via de Zomerfestival
Loomio groep.
Prices
1 Day
2 Days
3 Days
4 Days
Ticket
35 Euro
60 Euro
85 Euro
110 Euro
Accommodation

(includes linen, towels and breakfast)

1 Night
2 Nights
3 Nights
Single Room
42.50 Euro
85 Euro
127.50 Euro
Double Room
27.50 Euro
55 Euro
82.50 Euro
Triple Room
Family Room
Dormitory
20 Euro
40 Euro
60 Euro
Camping
10 Euro
20 Euro
30 Euro
Meals
1 Day
2 Days
3 Days
4 Days
Lunch
10 Euro
20 Euro
30 Euro
40 Euro
Dinner
10 Euro
20 Euro
30 Euro
30 Euro

Please note that prices are per person.

All prices include 19% VAT for board and 7% VAT for accommodation.
Workshops en activiteiten
Amber Divari
Amber Divari's slaagt er keer op keer om de luisteraar in het diepste van zijn wezen te raken. Met krachtige liederen temt ze de geestelijke onrust en brengt ze je terug naar je eigen kern. Dit concert is een wonderschone muzikale reis die het evenwicht in je dagdagelijkse leven hersteld. Amber Divari is een uitzonderlijke artiste die haar eigen muziek composeert en met hart en ziel deelt.
Not Two – Ashva Bodhi and Iris


Not Two is het geesteskind van Ashvabodhi, een Duitse singe-songwriter en een doorwinter Osho sannyasin, en de de Italiaanse Iris. Beide delen een rijke ervaring in het leiden van kirtan/bahjan/mantra zangcirkels en een liefde voor klassieke mantras en Osho geliederen.
Not two is op De Vlierhof geen onbekende. Tijdens de Paasretraite speelde het tweetal al de pannen van het dak. Vanuit De Vlierhof kunnen we u dan ook Not Two alleen maar warm aanbevelen!
Vanaaf meezingen naar Mantra Magic met Iris en Ahsvabodhi
Samen zingen vervult ons met vreugde langs de weg. Bewuste zingen is het ware pad.
Zing, zing,
zingen als een bloem
die wordt geopend,
doet er alles vanzelf.
Footmassage Healing Piano Concert met Erik Huele
Erik Huele brengt je aan de hand van subtiele stem- en piano geluiden in een mum van tijd in een vreedzame, ontspannen en open gemoedstoestand. Door middel van aanrakingen nodigt Erik je energie uit om vrij door je lichaam te circuleren en een diepe ontspanning te ervaren.
Een voorsmaakje naar Eriks werk kan je hier vinden.
EarthDome-Ceremony met Angela Muktadeva en Oliver Y'jagrdra
Shamanic Journey met Oliver Y'jagrdra en Angela Muktadeva
Deep Sleep met Jasper
– Deze workshop is helaas genannuleerd. –
Dancing in Unity with Boudewijn Magnus
"When the dancer is lost and only the dance remains…" OSHO
Dance can be a natural way of meditation: just living in the moment, no past, no future, just movement in the NOW. A lot of us have good experiences with that (for example in trance dance). For me a very special step further is to dance together with a partner, with the same aim of meditation.: just being in the NOW, in close relation to the partner, creating and 'solving' up in one mutual space…..In that way becoming one: one heart/ one breathing on 4 legs….
For me, it is about going deeper inside myself than ego reaches…..
So, when all 'walls' disappear, there is no boundary any more between me and the other. For me a very special step into the experience of the universal unity.
For me the Argentinian Tango has all potential to be that 'sacred' dance….
One of the beautiful female dancers where I recognize that often, is Ingeborg.
She offered to give together with me a workshop 'Dancing in unity'. See Ingeborg's website: www.bewogenbewegen.nl
In this workshop we will experience some very easy principles where you can recognize the meditation aspects of unity. It's just about feeling, being open-hearted, letting the mind 'rest'.
Voice Liberation with Cecilia Magnus
Lets taste, enjoy and be impressed by the sounds of the wisdom of our body. Voice liberation is a unique way of using the voice by connecting with what is present in the body. Everyone can sing. As soon as we let go of our judgements and expectations, we connect with our own true voice. In this workshop we will sing short improvisations, with and without text, individually, in pairs and as a group. Voice liberation gives you the chance to let some inner parts sound as an expression of what is shown or felt in your body.
Gurdjeff Movements
The Gurdjeff movements is a series of sacred dances that were collected or authored by G. I. Gurdjeff and taught to his students as part of the work of self observation and self study.
The movements are not just displays of bodily coordination and exercises in concentration. On the contrary, they transport real, concrete knowledge, passed from generation to generation of initiates – each posture and gesture representing some cosmic truth that the informed observer could read like a book.
The movements are purpordedly based upon traditional dances that Gurdjeff studied as he traveled throughout central Asia, India, Tibet, the Orient and Africa where he encountered various Indo-European and Sufi orders, Buddhist centers and other sources of traditional culture and learning.
There were literally thousands of movements collected and taught by Gurdjeff throughout his teaching career. The music for the movements was written by Gurdjeff and Thomas de Hartmann, as well as British composer Edouard Michael.
Join the Gurdjeff Movement weekend at the Vlierhof to get to know the movements or to deepen your experience with them. Both novices and those who already know some of the movement are welcome.
Campfire with Falk von Freigeist
The tradition of sitting around a campfire is almost as old as humanity itself. You can tell and listen to stories, play music and let your energy go around, sharing with everyone in the circle. A wonderful way to let the day end in a harmonious way!
Labyrinth Workshop with Frederique Hagedoorn
A labyrinth is an ancient symbol found worldwide in different forms. It differs from a maze in that you follow one path, rather than choosing left or right. The path contains twists and turns, leading to the center and then outward again. Along the access path on both sides, there are beautiful wild botanical gardens (including protected plants) with different shapes and colors. This part of the garden is worked upon by selectively weeding and serves as a tool for personal growth and development. Frederique is the designer and will give a workshop on the festival.
Open Podium
The stage is open. An empty stage and an attentive audience for you to share whatever is on your heart and mind.
Microphones, a Beamer, and a Sound-system is available.
Sauna with Falk von Freigeist and Swami Prem Tabda
An old finnish tradition, seen as a way of purifying body and soul, the sauna is a place for relaxation and wellness. The warmth cleanses the body and the steam is seen as the embodiment of the soul. Strengthen your immune system, cleanse your body and soul from everything bearing down on it and just enjoy a hot sauna.
OSHO Camp
AUM meditation with Akash and Frederik Vimal Krups
This two-hour meditation guides you in a safe and supportive environment through 14 aspects of the human experience: hatred, forgiveness, love, stamina, life energy, chaos, dance, sadness, laughter, sensuality, chanting, silence, respect and sharing. The AUM is a Social Meditation that combines movement, role playing and vocal expression. By participating in the AUM you can experience a deep sense of aliveness, warmth, relaxation and acquire a taste for life again! AUM stands for awareness, understanding and meditation.
No-mind-gibberish meditation with Swami Prem Tabda
The No-mind meditation is making nonsense sounds also known as gibberish for 30 min. This serves to throw out thoughts and thereby to create a naturally silent & meditative state. 30 min Gibberish, 30 min Silent sitting.
Kundalini with Akash
This is a 1 Hour meditation
15min. Shaking. Not doing the shaking, but allowing the shaking to arise from the earth through the feet.
15 min. Dancing – Allowing the energies that have been shaken up to flow to the heart.
15 min. of silent sitting or standing – Watching like a watcher on the hill how the energies flow and settle.
15 min. Dead man/woman's pose – Lay flat on the ground – Wiped out.
Born Again with Frederik Vimal Krups
This is a two hour meditative therapy.
1 Hour of playing like a child again. Be a child again. Allow all impulses to arise. Just be a child again.
1 Hour of silent sitting.
Osho's Dynamic Meditation with Frederik Vimal Krups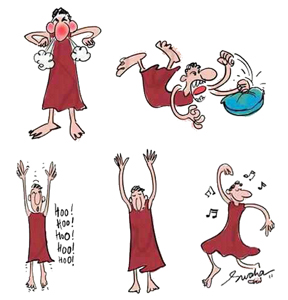 The dynamic meditation is designed for modern western human beings. It is a meditation with 5 stages.
The first stage (10min) involves chaotic, fast and deep breathing. The chaotic breathing does not give the body mind a chance to remain in control of suppressed feelings and emotions.
The second stage (10 min) is catharsis – Let go! and express everything that surfaces from the chaotic breathing. If you surrendered to the deep breathing process the catharsis will happen automatically.
The third stage (10min) is jumping on the spot, hammering the heals on the ground, while shouting the mantra "Hoo!".
The fourth stage (15min) is when the actual meditation happens. Someone will shout: "STOP!" – Freeze like a statue immediately. Just freeze. This is where the body-mind is surpassed.
The fifth stage (15 min) is celebrating meditatively through a morning dance to joyful music.
Atelier
Creative Writing with Katrien van den Bergh
Taking our inspiration from nature we will start by writing for short, timed periods and stick close to our physical senses. Looking at a tree or a flower or a beetle crawling in the grass, for example and really zooming in to everything we see, hear, feel, smell and maybe even taste. Starting from this we will explore other objects and subjects we find in the garden and on the land: what is the story of the sheep who watch the gardeners in the field, for example, can you imagine and write about what the world looks like through their eyes? Or sit in the field and listen to the world around you and then write about what you heard. Let yourself be inspired by the natural world and find magic in the small things.
Drawing with Frederik Vimal Krups
Speed sketching, various sketching challenges to challenge your creative abilities to draw
Sculpturing with Marjorie Slooff
Marjorie Slooff, who recently found her way to the Vlierhof is a skulptor. Her passion is to work with a lot
of different materials (like glass, bronze, wood, paper and polyester) and explore (im)possibilaties. She
makes big sculptures ,landart and small works in bronze and glass.
She is fascinated by human behaviour as influenced by triggers which cause action and behaviour. Is
behaviour based on our ancient primal instincts(flight, reproduction, survival), or are we less animal than
that?
Her work often shows a mixture of human and animal forms, and also plants and trees are expressed
with a soul. The sculptures derive their form from my view upon the world: I cut, chop, and peel the outer
layer away until their most intense form has been achieved. This powerful expression can penetrate the
inner world of the viewer and call alive their subconscious experience and its responses.
At the summer festival of the Vlierhof she will ask the participants of her workshop to work together on a
sculpture made of driftwood. The organic form of the material and the spontanuous imput of paritcipants
will result in a scultpture that fitts in the theme of the festival.
Beside sculpting she has been a fysio and manual therapist for 30 years gives massages, and is fond of
dancing.